We are pleased to present the 12th Annual Enterprise Computing Community Conference being held on June 7-9, 2020 on a virtual platform.  We invite you to attend and encourage you to share the below and attached information with your colleagues, and through LinkedIn and other professional connections.
12th Annual ECC Conference, June 7-9, 2020
REGISTER NOW for our Virtual Conference! Interact with our keynotes and presenters.
Don't miss out! For access to this virtual experience, registration is required.
https://ecc.marist.edu/web/conference2020
Conference themes include: Artificial Intelligence and Machine Learning, and Quantum Computing
Presentations and Papers may also cover other Enterprise Computing topics.
Our 12th Annual ECC National Conference will focus on topics of interest for students, faculty and industry professionals including keynote presentations, concurrent technical/educational sessions and panel discussions.
Keynote Speakers
Greg Lotko, Senior Vice President and General Manager at Broadcom
Scott Crowder, CTO & Vice President, Quantum Computing, Technical Strategy & Transformation for IBM System
Invited Speaker
John Cohn, IBM Fellow in the MIT-IBM Watson AI Research Group
https://ecc.marist.edu/web/conference2020/featured-speakers
Engage with our Sponsors!
Learn more about all they have to offer by visiting our generous Sponsors forums, including entering raffles to win Alexa and Google Home devices, the chance to take Introduction to z/OS and Major Subsystems, an online course through the Institute for Data Center Professionals (IDCP), and many more valuable prizes.
Interested in becoming a sponsor? Contact Cynthia Worrad, [email protected], about sponsorship opportunities for the ECC Conference.
Thank you
to our 2020 ECC sponsors!
Join us for our Monday Evening Corporate Sponsored Event
Virtual Art Gallery – presenting works from Marist faculty and students. View the amazing artistic works of our local artists. View the AM FM Magazine with designs by Marist fashion students. It will truly be a unique virtual experience to see the talents of Marist in the art world.
Join us for daily fitness breaks through guided videos developed by Marist College students.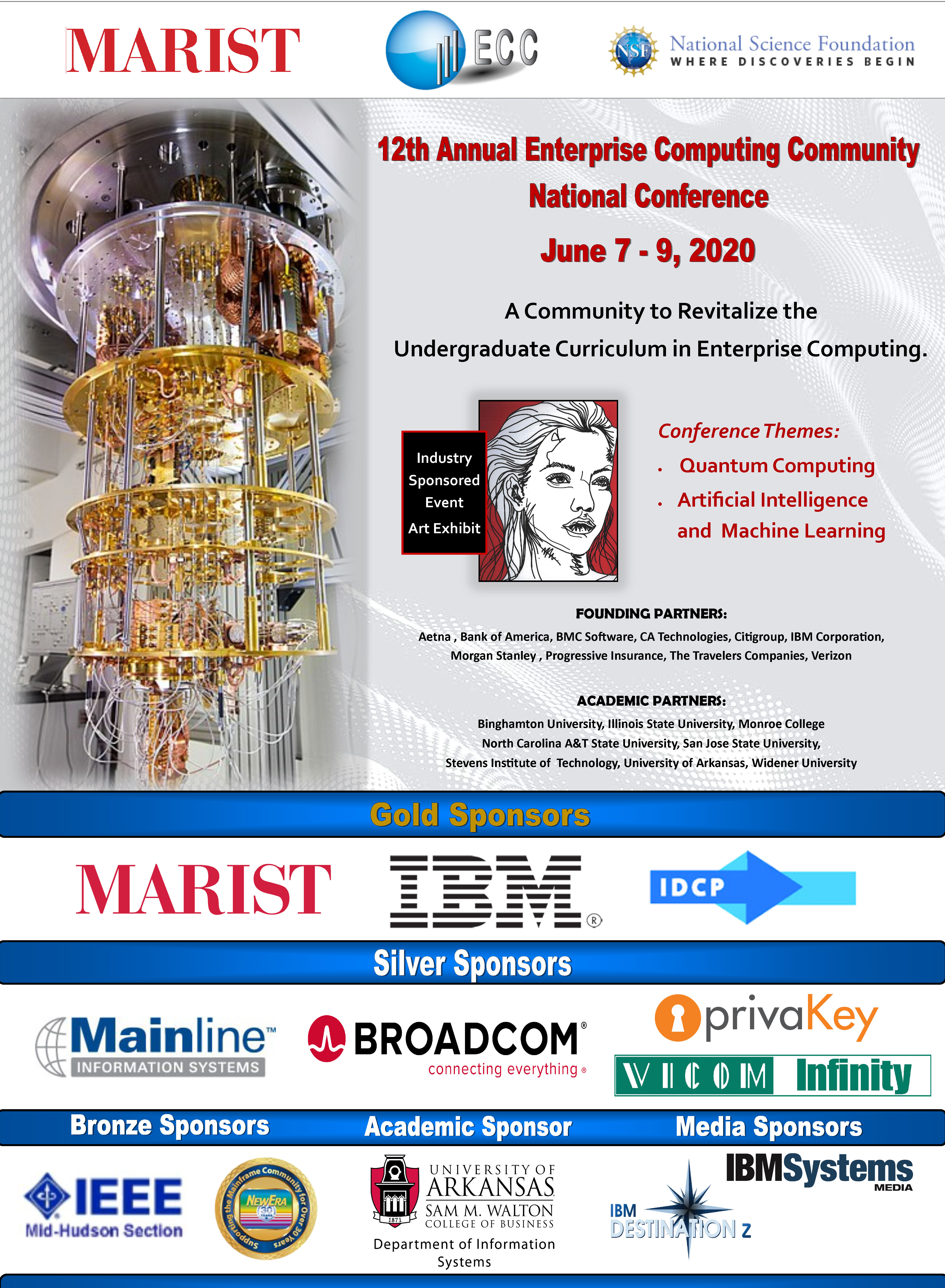 ECC Conference Schedule 2020 5.21.2020
Cynthia Worrad
Assistant Dean, School of Computer Science and Mathematics
Marist College
3399 North Road, Poughkeepsie, NY 12601
Hancock 3012
Tel:  845-575-3611
Fax: 845-575-3605