Extend your investments and build for the future with Red Hat OpenShift
Red Hat OpenShift enables you to sensibly manage enterprise workloads with the benefit of extra controls for security. A Kubernetes-based container platform, Red Hat OpenShift can help you quickly move, modernize and automate workloads or build new cloud-native applications. Development and deployment can take place on your own infrastructure and in your data center, mitigating risk and keeping you out of the headlines.
Modernize traditional applications, boosting scalability and resilience. Red Hat OpenShift is included with IBM Cloud Paks. that are ready to deploy into the public or private cloud. Its Containerization erases concerns about application-specific breakage points when modernizing monolithic, heritage applications. In a few words, Red Hat OpenShift is a platform to develop modern applications based on Kubernetes architecture behind the enterprise's firewall on IBM Z or IBM LinuxONE, while consuming IBM's catalog of middleware and software in the form of IBM Cloud Paks.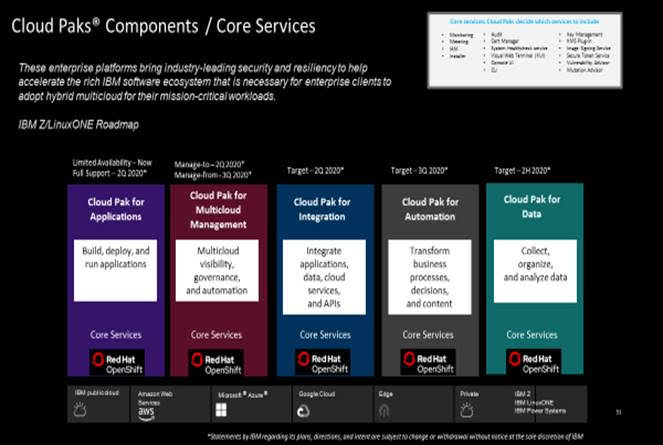 For the most current information regarding Red Hat OpenShift for Linux on IBM Z or IBM Linux one click here.
Vicom Infinity is skilled in Red Hat OpenShift, especially on IBM Z and LinuxONE. We have installed and supported it in organizations, both large and small, and across various industries. We look forward to working with you.