Open Mainframe Project Members and Community!
Welcome to our new, more informal, newsletter. My goal is to provide regular updates to the project community on what's happening, where you can get involved, and what's upcoming. Feel free to share this email with your colleagues, customers, and partners – and encourage them to join our newsletter list at https://www.openmainframeproject.org/resources/newsletter to get these updates directly.
Another record number of applicants for the Mentorship Program
Open Mainframe Project's Mentorship Programs has helped train more than 40 students in mainframe skills since 2016, with many of them continuing their career with OMP members ADP, IBM, SUSE, and more. This year, more than 100 students submitted 150 project applications, continuing the steady growth year over year.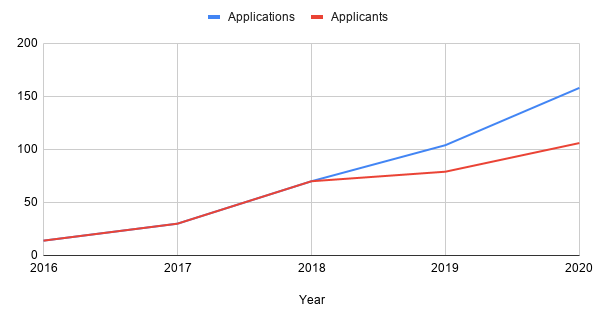 Keep an eye out in April for the list of accepted mentees and projects!
Getting involved in projects
The lifeblood of the Open Mainframe Project is the numerous hosted technical projects hosted, which collectively advance the open source on mainframe landscape. I'd encourage you to check out the latest list of projects at https://www.openmainframeproject.org/projects to learn more about them and how to get involved.
Some great project milestones recently include:
Zowe announcing it's 1.9 release, which is the first with Long Term Support (LTS). This is a big step in downstream users and partners to start building from this technology.
Ambitus announced at SHARE, with the project beginning to bring in ports of key open source projects to guide towards upstreaming mainframe support. Supporting broad open source projects on mainframe enables greater interoperability with other areas of IT in the enterprise
A virtual hackathon for Zowe, where leading projects will have the opportunity to present at the upcoming Open Mainframe Summit. This will be a great showcase to see how Zowe can be used as a framework for real-world applications
Growth of new Zowe Conformant Applications, as well as several new open source projects added to the Open Mainframe Project landscape. Continued momentum here showcases the vibrancy of the open source on mainframe ecosystem.
Learn more about technical activities in the Open Mainframe Project on our monthly TAC ( Technical Advisory Council ) calls, normally held on the second Thursday of each month at 1pm US Eastern Time. More details at https://github.com/openmainframeproject/tac.
Events
Open Mainframe Project is growing it's event footprint in 2020 with the launch of Open Mainframe Summit in September in NYC. This event will bring together the entire open source on mainframe community for two days to learn, network, and collaborate on the growing ecosystem of open source and how it's modernizing the mainframe.
The Call for Proposals is now open through May 29th, and early bird pricing is now available. There are also numerous sponsorship opportunities available, with discounts available for Open Mainframe Project member organizations. Thank you to Marist College, SUSE and Vicom Infinity for already committing to sponsorship – contact us now to get your company's sponsorship locked in!
In addition, Open Mainframe Project plans to be a part of many events across the open source, developer, and mainframe audiences in 2020 such as SHARE, GSE, Open Source Summit, and more. All confirmed events are now listed on our events page at https://www.openmainframeproject.org/events. If you're a member and don't see your event or speaking engagement on here – please email pr@openmainframeproject.org and we'll add it to the website and start promoting it.
As you can see, 2020 will be a busy year for Open Mainframe Project and the entire open source mainframe community. With so much going on, I encourage you to follow Open Mainframe Project on LinkedIn and Twitter to keep up to date on the latest happenings. If you have updates, articles or blogs, please feel free to email the info to pr@openmainframeproject.org and our team will help support it through social promotions, digitial marketing and more!
Thank you again for your support of Open Mainframe Project, and look forward to sharing more updates from our technical communities over the course of this year!
Thank you,
John Mertic
Director of Program Management – Linux Foundation
ASWF, ODPi, and Open Mainframe Project
jmertic@linuxfoundation.org
+1 234-738-4571
Schedule time with me at https://calendly.com/jmertic